Do you ever get the irresistible urge to pair things together even though you're pretty sure they don't work together? I feel that way about a pink plaid shirt and a busy patterned multi-colored skirt. This is not that outfit, since I've managed to resist wearing it in public. However, the other day I couldn't resist putting together a striped shirt with a striped cardigan, and found myself drawn to a couple options.
Option 1: Large striped cardigan (Anthropologie Field Game cardigan) with the belt underneath.
Option 2: Subtly striped cardigan (Anthropologie Yemaya cardigan) belted over, to keep it under control throughout the day, walking around.
You can see more where the stripes come in on the Anthro product shot, the faux-vest and faux-scarf are both striped.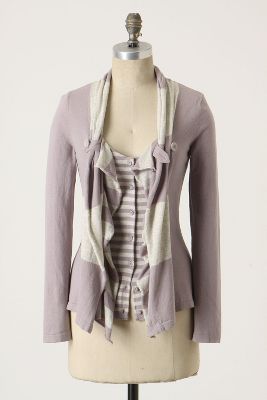 I went with option 2, because I figured that blatant stripes on stripes would be a horrible idea, and the lower cardi is a lovely soft texture, so perfect for feeling cozy when you're working, but aren't necessarily thrilled about. However, now that I look at the pictures, I vastly prefer option 1, even though I thought it wouldn't work in real life as well as it did in my head.
The lesson I should learn from this? If you're going through taking pictures of multiple variations on an outfit, it might be worth taking the time to look at them before you go off for you day :) It worked out okay though, since I wound up wearing the Field Game cardi the next day for an important meeting (and I sent in the outfit to Kim of
Anthroholic
for this week's reader outfits post). So how about ya'll? Do you ever find yourself drawn to putting things together even though you feel like it shouldn't work?